Get Lucky MN - March 14, 2020 is cancelled
Limited Time Offer: Any 4 Series Races for $199! 
 12th annual Get Lucky on March 14th, 2020 is cancelled due to the current health crisis
Please check your email for an update.
All adult registrations get to choose between:
Vintage Get Lucky Pullover or a Vintage Get Lucky Hoodie
PLUS All finishers earn a medal and a head/neck warmer at the finish!
People who pre-ordered their beer/pint glass will show their bib and get a ticket for their beer and glasses. On race day, people need to pay $10.00 for a beer, they will also receive a pint glass while supplies last.
New and Improved for 2020:
We are making a number of changes to make the Monster Series more fun, more organized, and more open to families and competitive athletes alike.  This year's changes include:
Adding age group awards 2-3 deep for Kids (0-9, 10-14 instead of 0-19 as years past) and going to 5 year age groups from 10 all the way up to 70+.
We will keep utilizing EnMotive's packet pickup solution for Dynamic Bibs as at Monster and Polar Dash to speed up your packet pickup experience.
Changing the Start Line to the Middle of the Concourse of CHS Field, providing a straighter line to start the race.  In future years weather permitting we will keep holding the start and/or finish line on the field.
Lowering the Bib replacement fee to $5 from $20 - we understand things happen!
And more to come.....
Traffic information for St. Paul Residents
Race Schedule
March 14, 2020 - All races start at CHS and are out and back down to Shepard Rd, finishing back in the stadium.  
7:00am - Stadium opens up, Race Day Packet Pickup begins
Bag drop is located on the Concourse level, not far from the start line. Clear plastic bags are provide to put your belongings.
8:00am - 21K (Half) - (with pacers) , 14K (with pacers to turn-around)
9:45am - 7K (Timed)
9:55am - 7K (Un-timed), after the Timed crosses the line so give or take a few minutes
The Half Marathon starts at 8:00am at CHS Field, goes out the back, down Kellogg Blvd and then heads out and back on Shepard Rd. There will be pacers (runners in KILTS carrying pace signs and running at that pace. They are great for encouragement, fun and keeping you on course and on "pace") 
Course Map linked below is approximate:  The course IS certified for MN ROY standings.
http://www.mapmyrun.com/routes/view/1395285700
Last Years Pacers (See photos above):
| | |
| --- | --- |
|  1:30 - (6:52 Pace) | Gerad Mead, Matthew Axelrod |
| 1:35 - (7:15 Pace) | Jim Winkels, Daniel Rueckert |
| 1:40 - (7:38 Pace) | Alyssa Breu,  Jason Lewis |
| 1:45 - (8:01 Pace) | Jamie Blumentritt, Mike Bester |
| 1:50 - (8:24 Pace) | Elizabeth Hockensmith,  Thomas Lindsay |
| 1:55 - (8:47 Pace) | Mike Schmitt, Seigo Masubuchi |
| 2:00 - (9:10 Pace) | Ann Smith, Sara Stanley |
| 2:05 - (9:33 Pace) | Gwen Thomas, Ben Thomas |
| 2:10 - (9:55 Pace) | Kristina Funseth, Vicki Dufner |
| 2:15 - (10:18 Pace) | Beth Burton, Lisa Markert |
| 2:20 - (10:41 Pace) | Heather Schlagel, Angie Ness |
| 2:25 - (11:04 Pace) | Mike Kaiser, Kristin Lamon |
| 2:30 - (11:27 Pace) | Jenny Owens, Thomas Perri |
| 2:35 - (11:50 Pace) | Lori Golightly Barrett, Kelli Mutschler |
| 2:40 - (12:13 Pace) | Mohan Chettiar, Erin McCrorey |
| 2:45 - (12:35 Pace) | Luke Charpentier, Janice Noggle |
| 3:00 - (13:44 Pace) | TBD |
The 14K starts at 8:00 am in Right Field of CHS (same time as the Half Marathon). 
Pacers from the Half Marathon will stay with you until the 14K turn-around - see the "Half Marathon" tab for pacer info. 
Course Map linked below is approximate due to weather-dependent changes.
The timed 7K Will start at 9:45am on Right Field of CHS, allowing you to run the 14K if you wish (or the 21K if you can finish in less than 1:40!).
The untimed 7K will be held to start afterwards at approximately 9:55am.
Course Map linked below is approximate:  Pending weather and field conditions exact start + finish line may change, affecting turn-around points.
Get your Cozy GET LUCKY GEAR Delivered to your home ...
no need to come to Packet Pick-up on March 13th!   Packets will begin mailing out on 2/10.  If you have not received your packet by the Monday before the race, please send us a note via the Contact Page.
Note:  Bibs and gear are mailed together  
If you can't make packet pickup the day before (or send someone for you), you will need to click here to add $20 race-day pickup.   You can also pay cash onsite to pickup.
*New this year:  As at Monster Dash and Polar Dash, Bib #'s not pre-mailed will be assigned quickly at packet pickup* 
If  you are picking up for someone else, please Bring their photo ID or a picture of it (texted or emailed to you is fine)  - this is important to make sure you are allowed to pick up their gear.
Friday, March 13th, 2020
11:00 - 7:00PM
Location: CHS Field, Securian Skybox 360 N Broadway St, St. Paul, MN 55101    
Recommended Parking:  Cheap Parking on Friday at the Farmer's Market based on availability (also at Union Lots B+C)
To get there:  Walk in the main gates of the stadium (off Broadway), and walk up the stairs to your left that say "Securian Club".  
If you can't make packet pickup the day before (or send someone for you), you will need to click here to add $20 race-day pickup.   You can also pay cash or credit onsite to pickup.
Saturday, March 14th (Race Day): packet pickup begins at 7am; $20 Convenience fee applies per packet picked up on race day.  Race day Registration opens at 7:00 AM until your race starts.  
Parking is recommended at:
Union Depot Lot C West + East ($5, cash or credit) or
Union Depot Lot B ($10 credit or see below for cash details)
 Event rates are good for 6 hours, starting at 6am.  See below for more details:
Full Parking details:
The event parking rate runs  from 6 a.m.  – 3 p.m. on 3/16 in lots B, C East + C West. The C lots are a $5 flat rate and lot B is a $10 flat rate. If you enter the lots prior to 6 a.m. you will then have to pay the standard rate which you can find on their website.
When you enter the lot you will pull a ticket from the parking station machine. You then will have six hours to leave the lot in order to take advantage of the event parking rate. If you choose to stay there longer than six hours, the standard parking rates will come into effect and be added on top of the event parking rate.
When you leave, you can pay either cash or credit at the pay station for the C lots.  However, you have to pay at the pay on foot station for Lot B if you want to pay cash.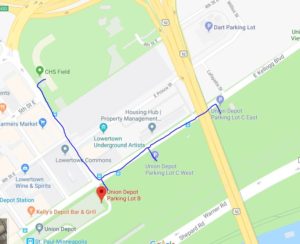 Looking for a place to stay?  Here is a list of accommodations in St. Paul, close to CHS Field.
You have 3 gear choices: 
1. Vintage Embroidered Pullover
2. Vintage Green Hoodie 
EVERYONE will also get a neck gator at the finish line!  and of course everyone gets a medal!
See the charts below for recommended sizes.  Note: these are measurements of length, not the traditional 'around'.
Hoodie: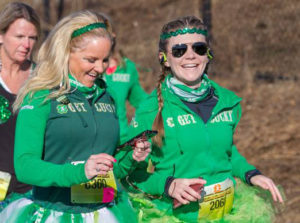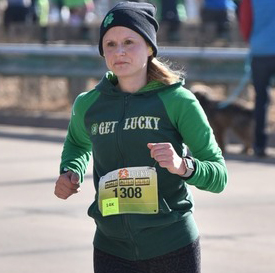 Hats and Neckwarmers: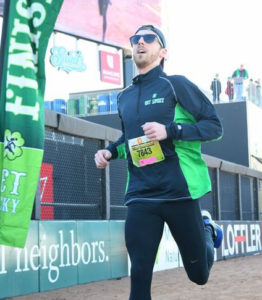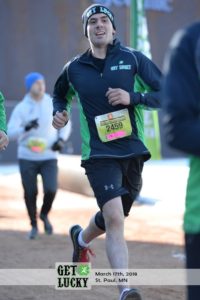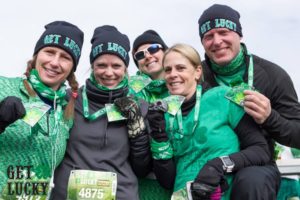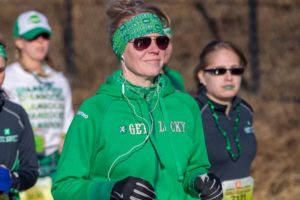 Results and Photos will be posted at hub.enmotive.com/results-and-photos, and on our Results + Photos Page.  Photos will also be emailed to you as they arrive!
Awards
Awards for the 7K, 14K, and Half Marathon (21K) will be given onsite.  If you do not pick up on site, awards will be mailed. 
New this year! We are splitting into 5 year age groups and adding 0-9, 10-14, and 5 year age groups up to 70+ to allow for more awards for racers, and especially kids!
Awards will be given to the Top 3 Overall Male and Female Finishers.
Awards will be given to the Top 3 Male and Female Finishers in each of the following age groups:  0-9, 10-14, 15-19, 20-24, 25-29, 30-34, 35-39, 40-44, 45-49, 50-54, 55-59, 60-64, 65-69, 70+
Overall winners will not be eligible for age group awards ('no double dipping')
Check out the 2018 Age Group Winners:
| | |
| --- | --- |
| 21K Females | 21K Males |
| 14K Females | 14K Males |
| 7K Females | 7K Males |
Weather Policy
During Monster Series events there is always the potential for extreme or severe weather conditions (for example lightning, tornado, high winds, extreme hot or cold temperatures, blizzard, etc...). Monster Series will do as much as we can to make the experience as safe as possible.  But if there is severe weather, the race may be delayed as race officials consult public safety officers.  If there is more than a reasonable delay, or if conditions persist, race officials reserve the right to shorten or cancel the race.  Entry fees are non-refundable.  Please check the website and your email before the race for any changes or cancellations.  If you are already at the event, listen to the announcer about any weather changes that may occur.
Sponsorship opportunities at packet pick-up and on race day are available by contacting:
TeamOrthoTammie@gmail.com
Post-race Food Sponsor: