Monster Dash - Sat 10/26/19
8:30am - Cathedral of St. Paul / Upper Landing Park, St. Paul, MN
Come out and join the Monster Dash!  For the 2nd year all races will be finishing in Upper Landing Park, bringing you twice the size of post-race party.   All distances are certified and the Half/10M are their usual brisk downhill!
Check out this year's Jackets in the Gear tab!  Medal reveal coming soon.
Join us for Monster Dash!  Monster Race Series's signature costume race is the perfect way to start celebrating Halloween in 2018!  All races are chip-in-bib timed and the Half, 10M, 10K, and 5K are USATF Certified.
Half Marathon: 8:30 AM - Starts near the Cathedral of St. Paul, finishes at Upper Landing Park 
10 Mile: 8:30 AM - Starts near the Cathedral of St. Paul, Finishes at 10 Mile mark of Half Marathon (Shuttles back to Upper Landing Park)
10K: 9:00 AM - Starts & Finishes at Upper Landing Park 
5K Timed: 10:30 AM - Starts & Finishes at Upper Landing Park
5K Untimed: 10:40 AM (After 5K Start line is cleared)
Note:

We will not be having the Mt. Doom Challenge or 1 Mile in 2019

, please look for its return on OCT. 31, 2020! 
Course Map -  https://www.mapmyrun.com/routes/view/1324294615
Pacers:
1:30 - (6:52 Pace)
Mantis
Toboggan
 1:30 - (6:52 Pace)
Matthew
Axelrod
1:35 - (7:15 Pace)
Jim
Winkels
1:35 - (7:15 Pace)
Cody
Mikl
1:40 - (7:38 Pace)
Sara
Johnson
 
1:45 - (8:01 Pace)
Alyssa
Breu
1:45 - (8:01 Pace)
Jason
Lewis
1:50 - (8:24 Pace)
Kasey
Kuker
1:50 - (8:24 Pace)
Mike
Schmitt
1:55 - (8:47 Pace)
Ann
Smith
2:00 - (9:10 Pace)
Shannon
Lindgren
2:00 - (9:10 Pace)
Lindsay
Paulson
2:05 - (9:33 Pace)
Gwen
Thomas
2:10 - (9:55 Pace)
Mike
Kaiser
2:10 - (9:55 Pace)
Scott
Carlson
2:15 - (10:18 Pace)
Luke
Charpentier
2:20 - (10:41 Pace)
Lori
Barrett
2:25 - (11:04 Pace)

Beth

Burton
2:30 - (11:27 Pace)
Thomas
Perri
2:30 - (11:27 Pace)
Tonya
Dunn
2:35 - (11:50 Pace)
Jenny
Owens
2:35 - (11:50 Pace)
Anna
Giacomini
2:40 - (12:13 Pace)
Emily
Hannay
2:40 - (12:13 Pace)
Erin
Manthey
2:45 - (12:35 Pace)
Leah
Warden
2:45 - (12:35 Pace)
Adam
Warden
3:00 - (13:44 Pace)
Katie
Thorson
The 10 Mile runs with the Half Marathon to the 10 mile finish line ;  see the Half tab above for pacers.
A great feature of the Monster Dash races is the funny and creative costumes that runners come up with.  Some run the 5K -- while others run 10K or Half Marathon all decked out in their Halloween costumes!  We invite you to do the same (with one tip, you might want to practice running in it before race day)!
Here are the categories to get you brainstorming on a great costume. This year, awards will be given at the post race party 
Divisions
We will be judging for the Top Three in the following divisions: 
Individual Male
Individual Female
Couple (2 individuals)
Group (3 or more individuals)
Individual Boy (12 and under)
Individual Girl (12 and under)
and Where Do I Find Out If I Won?
Winners will be announced following the race at the Post Race Party. 
Check our Facebook page and your email to find out if your costume won!!
​
Best Costume Overall - $200 (or $400 contribution to your favorite charity) 
1st Place Female - $100 or Two Free Race Entries or $200 Contribution to your chosen charity 
1st Place Male - $100 or Two Free Race Entries or $200 Contribution to your chosen charity 
1st Place Couple - (2)$50 or Two Free Race Entries or $200 Contribution to your chosen charity 
1st Place Group - $200 or Four Free Race Entries or $400 Contribution to your chosen charity 
1st Place Boy - $50 Amazon Gift Card 
2nd Place Boy - $25 Amazon Gift Card
1st Place Girl - $50 Amazon Gift Card
2nd Place Girl - $25.00 Amazon Gift Card
Don't want to come to packet pickup?  We can mail your packet for you! Most recent costs on the registration page.    
Packet Mailing starts at $4.99 and increases closer to the race date.
Note: Race Day Pickup costs $20, so if you can't make it to day-before packet pickup, this is the recommended option!
To add packet mailing or race day packet pickup, please go to our Changes + Policies page.
There will be no general race-day packet pickup for the races (except for those who paid for race-day packet pick-up). Please see above information about having your packet mailed to you or pay for your race day packet pickup exception.
Thank you for your interest in Monster Dash!  Please join us for our packet pick-up to get your bib, chip and race gear.
Note for Back drop: bags are provided at the start. We provide markers for you to write your race on the outside of the bag. It is then transported to the finish area for you to pick-up.
*For the Second year, Bib #'s not pre-mailed will be assigned quickly and dynamically at packet pickup, so you need not look up your bib # or bring Photo ID.*
  Friday, October 25th, 2019 (Free)
Time:  11 AM-7PM`
Location: Upper Landing Park (180 Shepard Road, St Paul, MN 55101)
Race Day Sat October 26th, 2019 ($20)
Time: 7:30am at your start line (Cathedral for Half/10M, Upper Landing Park for 10K/5K)
YOU DO NOT NEED YOUR BIB NUMBER AHEAD OF TIME. This year, we will be assigning bib numbers (for those who did not choose mailouts) "dynamically" at Packet Pick-up. 
If you need to change your race distance, please go here:  https://secure5.marathonguide.com/register/MonsterSeries/2018RaceSeries/ChangeRace.cfm
 The Race is at Upper Landing Park in St. Paul, MN - Half and 10M start just up the hill at the Cathedral. 
Parking is recommended at Science Museum of Minnesota, 120 W Kellogg Blvd, St Paul, MN 55102   -OR-
RiverCentre - 150 W Kellogg Blvd, St Paul, MN 55102 ; 
there is a special event rate of only $5 per car. 6 AM to Noon.
The Saint Paul Hotel is offering a Rate for Deluxe King Single at $129 per room night plus taxes.  To make reservations call the Reservations Department at 1-800-292-9292 and ask for Monster Dash rate.  Rooms are limited and available first come first served. 
We will be posting more information on parking, partner hotels, etc closer to the date.
Results and Photos
Results will be posted at hub.enmotive.com and on our Results page
Awards
New this year! We are splitting into 5 year age groups and adding 0-9, 10-14, and 5 year age groups up to 70+ to allow for more awards for racers, and especially kids!
New for 2019 MD and future races:  Special Challenge awards to the top 3 M/F and top 1 Overall in each Challenge Age Group
Awards will be given to the Top 3 Overall Male and Female Finishers.
Awards will be given to the Top 3 Male and Female Finishers in each of the following age groups:  0-9, 10-14, 15-19, 20-24, 25-29, 30-34, 35-39, 40-44, 45-49, 50-54, 55-59, 60-64, 65-69, 70+
Overall winners will not be eligible for age group awards ('no double dipping'
Check out 2018's winners: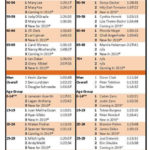 Charity Partner
The Twin Cities Mountain Bike Patrol (TCMBP) was formed in 2018 to meet the need for a volunteer group of first responders to assure safety on Metro area mountain bike trails, and provide medical support at a variety of sports events. Most of the members of TCMBP are also members of the Backcountry Trail Patrol Association, and/or the former MORC (Minnesota Off-Road Cyclists) Mountain Bike Patrol, and have been involved in medical support for numerous events in Minnesota and northwestern Wisconsin since 1996. Their red jerseys with the white cross on them are a familiar sight at the Twin Cities Marathon, the BLAST Series mountain bike races, the City of Lakes Loppet (on skis and mountain bikes), the Chequamegon Fat Tire Festival, as well as all of the Team Ortho/Minnesota Monster Series races since their conception.
The majority of the patrollers are trained to the Wilderness First Responder level, although their ranks also include Emergency Medical Technicians, Paramedics, Registered Nurses and other healthcare professionals. Their medical training has served them well, with documented saves at the Twin Cities Marathon in 2012, and again in 2014, and a BLAST Series race in 2008, as well as countless interventions for both serious and minor medical issues. Members are also certified in the highest level of Basic Life Support, CPR for the Healthcare Provider with Automatic External Defibrillator (AED), in addition to their first aid/emergency medical certification. Patrollers ride on the course in teams of two, equipped with first aid supplies for trauma, bone and joint injuries, common medical situations such as nausea, vomiting, cramping, dehydration/over hydration, and heat and cold illnesses. Each team also carries a special, compact AED, which were purchased through a grant by the Team Ortho Foundation.
Check back here for Race Announcements
10/12: Mailout deadline
10/21: 2nd Race Price Increase
Our 2019 pumpkin is 'in training'!